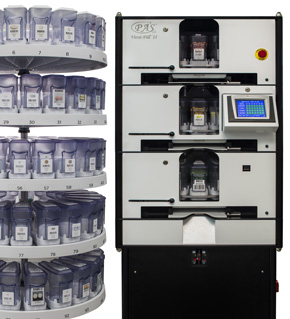 Versa-Fill lle, stand alone pharmacy
medication dispensing system
Versi-Mate, table top pharmacy automation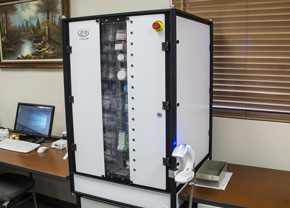 The CMD-300 is a secure automated medication storage and dispensing system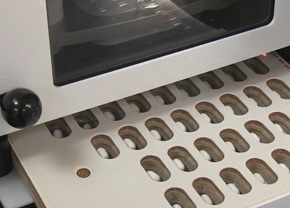 The Versi-Fill lle filling a blister card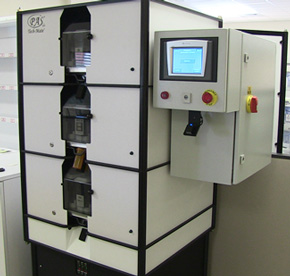 Tech-Mate vial filling machine
​

QEM Inc. is the parent company of Pharmacy Automation Systems Inc., who designs and manufactures innovative and affordable pharmacy automation systems. PAS was established by QEM to fulfill a need in the pharmacy industry as Pharmacists are in short supply and have a great deal of pressure to accomplish all that is expected of them during a daily routine.
Our History
We currently hold patents on several of our designs and are committed to developing new products that help pharmacies increase patient safety, maximize customer satisfaction and lower operating costs.
Knowing that guidelines for Pharmacists vary from state to state, we have worked hard to gather vital information and develop machinery adhering to those guidelines.
Our goal was to design versatile and affordable filling automation that was not previously available to pharmacies. We use our 20+ years of successful experience with machine design and automation to produce and manufacture right here in the USA. We believe that our prescription dispensing automation is the most affordable and certainly the most versatile equipment on the market. Our desire is to serve the industry well and give the pharmacists and technicians what they need.
Accreditation
We are audited yearly and dedicated to maintaining our ISO 9001:2015 certification for design, manufacturing and assembly of machinery and equipment.
For over 20 years QEM has been building automation equipment for Pharmacy Automation Systems, let us put those years of experience and expertise to work building your machines and assemblies.